Happy Birthday, Dear Bubbles!

Hi everyone!
Wait, where's the question, you might be asking? Well, we're taking a break to celebrate a momentous occasion: Dear Bubbles turns one years old today!
That's right! It's been twelve months and 100,766 words in 52 columns on topics ranging from how to use bubble wrap to depth of field to cleaning your sensor to conceptual blending to how to sh*t in the woods. We've covered a lot of ground together in just a year!
So today, I celebrate YOU! Thank you—and congratulations—to the 52 people who were brave and curious enough to send in a question. This column isn't possible without your participation! Because of you, we've all had the chance to exchange thoughts, learn new concepts, and expand our toolboxes.
A big shout out to all of the readers. Through these posts, I hope you've had the chance to refine your own photographic process and try new ideas out in your own practice. To those who left comments and asked more questions, thank you! By sharing your ideas and experiences, you've expanded the conversation.
Also, heartfelt gratitude and hugs (or hand-shakes and fist-bumps, if you prefer) goes out to my Patreon contributors. Your financial support has not only allowed me to keep my blog advertising-free (and uncluttered), but it has also helped me get through the unexpected changes the pandemic brought on in 2020.
Thank you for giving me this opportunity to grow as a human and photographer, offer advice on your burning questions, and experience joy through it all. It is said one of the best ways to learn is to teach. In helping you through your challenges, you've helped me with mine. With each post, I've refined my technical understanding, researched new creative concepts, and improved my writing. Writing a column a week has instilled a discipline in me that I hadn't had before—and didn't know I had in me. I had previously struggled to get a 2000-word articles out in a month or two's time. No longer! Nothing like committing yourself to writing an article a week to address that issue! I'll admit, there were weeks where I picked a question thinking it'd be a quick, short answer only to finish hours later with well over 2000 words. And even still, as each write-up progressed and evolved into unexpected directions (and lengths…), I've loved every second of it.
What's in store for Dear Bubbles moving ahead? A few things!
I'm thrilled to share that, from these 100,000 words, a new Dear Bubbles book is in the works! In hopes it'll be a handy—and fun and inspirational—reference for your technical, creative, and life questions on your photographic journey, it'll be a compilation of your favorite topics plus a handful of unpublished questions. (So for those of you who have submitted a question but it's not yet been answered on Dear Bubbles, it's possible it'll make the book.)
In addition to editing and polishing, I've been playing with the interior design, layout, and organization over the last couple of months. Here's a sneak peak at the latest mock-ups: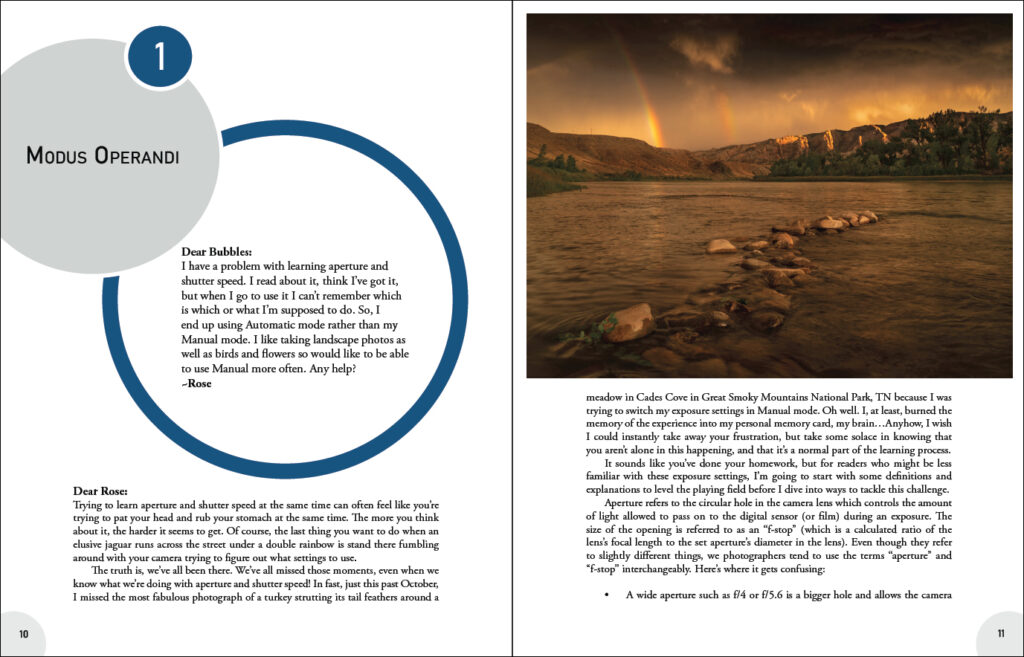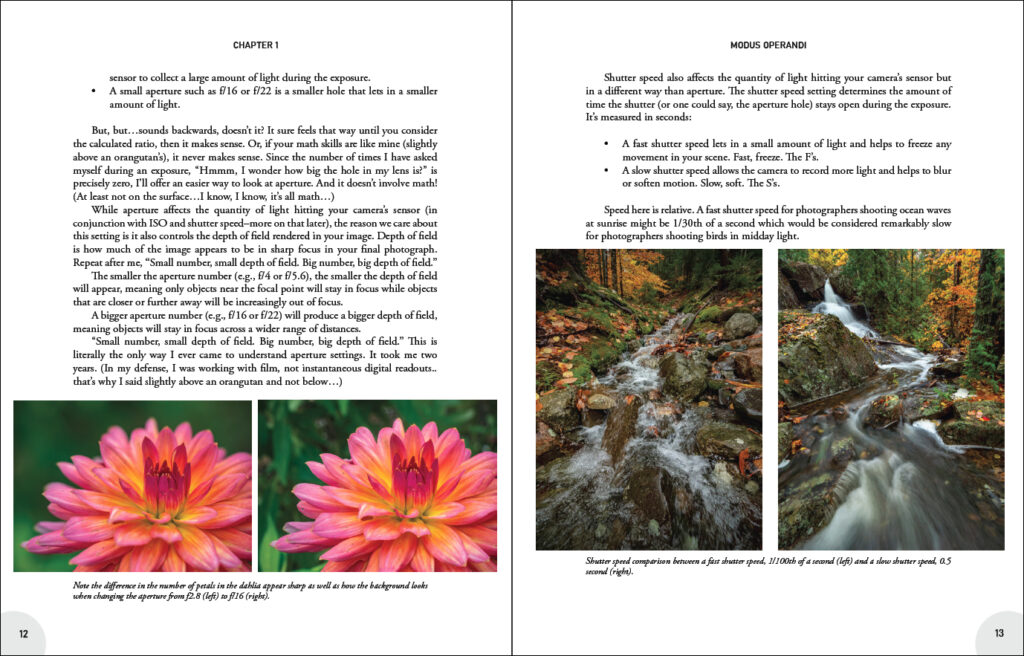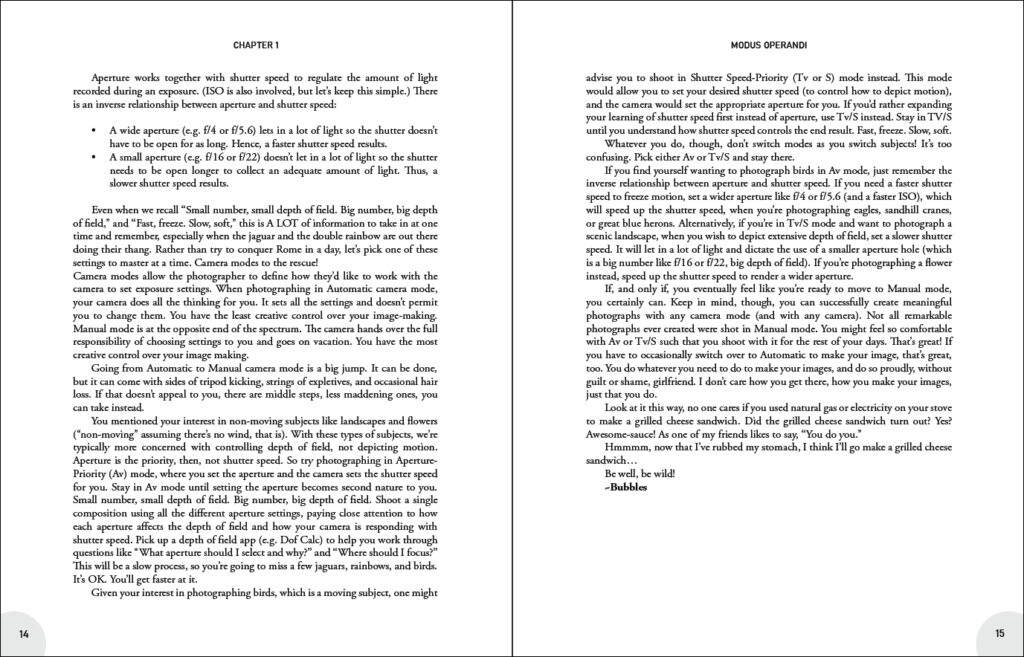 What do you think of it? You know me, I had to go with a bubbly theme! If all goes according to plan, I hope to publish around this time next year. I'll send out a formal announcement when it's ready. Stay tuned!
As a thank you for your outstanding support, all 24 people on my Virtual Wall of Fame as of this moment, regardless of their level of contribution, will receive a FREE signed copy (with free shipping) and eBook. Anyone who begins to contribute $15/month or more hereafter will receive the same IN ADDITION to the free book they're already promised in the Patreon perks. Plus, the 52 people who had their question featured on the blog in the past year will receive a free eBook. Surprise!
Also, after careful consideration, I'm moving the column from weekly to monthly. I've received consistent feedback that readers aren't able to "keep up" with the weekly posts. Truth be told, when I look at my commitments ahead (including the production of the Dear Bubbles book), I won't be able to either. With that, Dear Bubbles will now be posted on the first Wednesday of every month. My next post will be December 2, 2020. That's still 12 articles tailored to your questions on photography and the creative life each year. We'll give it a try, and if I'm flooded with questions or different feedback, I'll change the frequency again.
What this means is: keep those questions about photography and the creative life coming. As you have seen, anything and everything goes! If you need some advice or looking for inspiration, Dear Bubbles can help!
For now, off to celebrate with pie! Raising my bubbly to all of you tonight!
With much gratitude,
~Bubbles