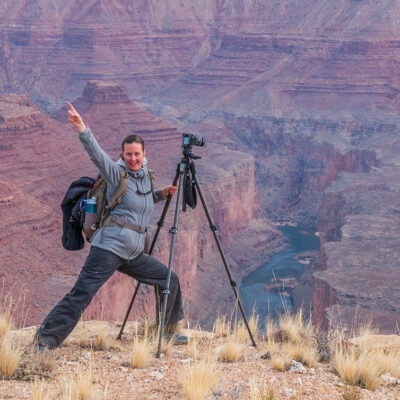 Hi there! I'm Colleen Miniuk, and I'm "Dear Bubbles."
I get questions all the time via email, on social media, and during my photography workshops. About anything and everything. I love questions, especially ones that make everyone think. For whatever reason, the Universe exploded with a greater quantity of inquiries than normal during this one week in early November 2019. I joked after answering a string of them, "You know, wouldn't it be hilarious if I started a 'Dear Bubbles' advice column?"
After I stopped giggling, and I turned my pesky prefrontal cortex off, my next thought was, "Why the hell not?!" And I started giggling some more. So here we are…I promise, I was totally sober…
Why "Dear Bubbles?" Because I love helping others, however I can, get through the challenges of photography, art, and the creative life. Because we're all struggling in our own way. Because if I can somehow make your journey a little easier on you, awesome sauce. That's my hope! The world and outdoor photography industry could use more positive energy, more bubbles, right? Right! So the world will now get a dose of "Dear Bubbles" every Wednesday.
The Bubbles part? Well, those who know me know I lose all two of my marbles rolling around in my brain when I see bubbles. Foam in streams, water drops on leaves, air bubbles in ice. All of it. Some years ago, one of my nicknames became "Bubbles." Tequila might have been involved then…
When I'm not photographing, writing, or teaching, I enjoying camping, stand-up paddleboarding, hiking, making sand and snow angels, taking adult ballet & pointe lessons, playing my flute, reading, laughing, goofing off, wandering, and wondering. I'm fluent in sarcasm, love French Chardonnay (though I don't discriminate against any type of wine), and much prefer overcast skies to clear blue ones. I also might be addicted to rivers. Oh, and bubbles too. Have I mentioned bubbles?
My life's motto is "You can sleep when you're dead." I intend to make the most of the short time I have on this Earth, helping and inspiring as many people as I can to do the same along the way…so how can I help you in your journey?
To read a full bio and to learn more about my work, please visit my main Colleen Miniuk Photography & Writing website at: www.colleenminiuk.com.
Thanks for stopping by! No matter where your path leads, be well, be WILD!