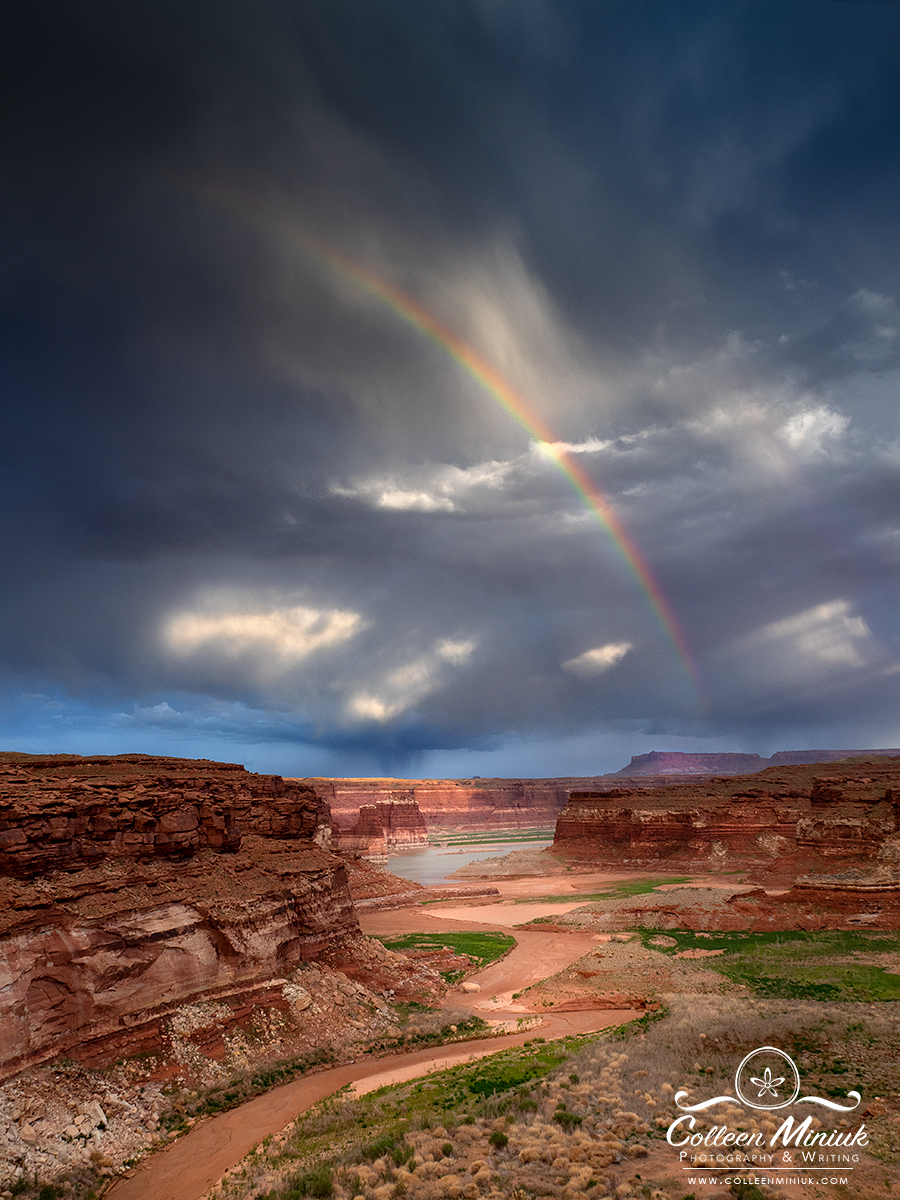 Dear Bubbles:
Are you a photographer who writes, or a writer who photographs?
~Cindy
Dear Cindy:
The short answer? Yes.
The longer answer: I'm a photographer and a writer. I'm also an instructor, publisher, speaker, author, editor, graphic designer, columnist, stand-up paddleboarder, rafter, hiker, camper, dancer, gin drinker, bubble lover, wanderer, wonderer, daughter, sister, friend, and I'm just getting warmed up. I'm a human being wandering this planet making up ways to make the best of this life and fulfill what I believe my purpose to be (trying to help other people make the best of their lives, too). I'm me, Colleen Miniuk, Bubbles, and everything that encompasses.
And despite my Type-A, high D, INTJ perfectionistic planning tendencies, I never intended any of this…
See, being born in the mid-1970s and heavily influenced by the Baby Boomer generation that raised me, I believed that I'd go to college, pick a major, get a job, and stay there until I retired. When people asked me "What do you want to be when you grow up?" though, I didn't know. I didn't really want to grow up in the first place. But I was led to believe I'd have to pick one occupation and that it would define me for the rest of my life…
So, I considered becoming a doctor, lawyer, pilot, or architect, not necessarily because I found the work they did appealing, but rather because they'd help me make a ton of money, achieve high status within society, attract a well-to-do husband, buy a big house with a white picket fence, drive a fancy car, birth two children, get a dog, and live happily ever after in my perfect fairy tale life. You know, the American Dream?
In college, I chose a safe path that would ensure my independence and stability per these societal expectations. I received Bachelor of Business Administration degree with a Computer Information Systems focus and immediately secured a job with Intel as a software engineer at the height of the tech boom. Nine years of corporate life almost killed me. I had checked all the boxes for the American Dream (except for the birthing two children and dog. I got a cat instead. That should make up for both.). I had "made it" by the time I was 30 years old. But the only thing that life and the pursuit of the American Dream made me was frustrated, disappointed, and exhausted. It also made me physically ill.
In response to increasing work stress, which started causing major health issues, I took up photography at the local community college in 2001. I had never owned a camera before unless you count the disposable ones you bought at a drugstore right before you went on vacation. I had thousands and thousands of family photos in APS format before I bought my first big girl camera (a Minolta Maxxum 5, purchased because it had a depth of field preview button).
I hadn't spent much time in the outdoors previously, but I found myself seeking solace in wild landscapes in almost all of my free time with a camera in hand. Just two years after my first class, magazine editors, calendar publishers, local businesses, and private collectors at weekend art shows began buying my photographs. By 2006, I had unintentionally established a viable photography business. So I walked out skipped joyously out of Intel on my own accord on February 28, 2007, a date I celebrate as my personal Independence Day, to become a freelancer.
The thing is, when you start steering your own ship, you no longer have people standing over your shoulder telling you what you should and shouldn't do. Sure, you have to work well with you clients to meet their individual needs. For the most part, though, you wake up every day with a blank canvas. Every day, I wake up and ask "What do you want to do?" (I've intentionally left off the "…when you grow up" ending since that's no longer a path I'm pursuing).
I start answering this question based on my life's philosophy: "If it's fun, legal, and ethical, keep doing it. If it's not fun, legal, and ethical, stop and find something else to do." If I don't know whether an activity or path will be fun, I give it a good college try. Everyone should try things at least once in your life, except for maybe sky diving, bungee jumping, and swimming with sharks. How else will you know if you enjoy it?
If no pressing deadlines or outside dependencies loom, I'll consult my strategic business plan and my tactical to-do lists—both of which are completely made up based on my interests and defined purpose—to help guide me. Otherwise, I pretty much do whatever I feel like doing on any given day. That means on some days I'm a photographer. Some days I'm a writer. And then there are some days where I'm an email responder, an accountant, a marketer, a delivery woman, a coach, a graphic designer, and an editor. Sometimes all on the same day! This delicious freedom (and it is supremely delicious) comes with intense responsibility and great financial risk. If you're paying attention, though, it also comes with space to explore new opportunities as they arise.
In 2010, my buddy and outdoor photographer, Paul Gill, mentioned to me casually that he'd love to produce a book about wildflowers someday. My ears perked up. In college, after taking multiple writing classes to fulfill my final electives to graduate, I declared "I would love to write a book someday. I just don't know what to write about." A beer later, Paul and I had agreed to write a guidebook about photographing Arizona's wildflowers together. Finally, an idea to write about! I could easily shift my other work around to accommodate it. The only problem? I had no idea how to write a book.
I researched extensively, sought guidance from those who had experience and contacts, and made up the rest of it. One book led to another led to another. What I did well, I kept for the next time. What I messed up, I fixed the next time. I learned that I love everything about the book publishing process. So much so, I started a publishing company, Analemma Press, in 2011.
(Here's your dose of random useless knowledge in case you haven't heard about an analemma: https://en.wikipedia.org/wiki/Analemma. Pretty cool, huh?)
When it comes to writing, the slow drip has become a fire hose. Now I can't write fast enough to keep up with all the ideas I have for books, blogs, editorial outlets, and now the Dear Bubbles column. In fact, I'm working on two book manuscripts actively right now with at least four more in the works. All will include words and photographs to help me tell richer stories.
If you'll allow me to geek out for a moment, I had an exciting revelation just last year after taking a writing workshop about why I like blending photography and writing together in my work. When I was six years old, my parents took me to Disney World in Orlando, Florida. After riding Peter Pan and Pirates of the Caribbean, I wanted to be a Disney Imagineer. I even designed "rides" in my basement with my brother, using bikes as the car, wood blocks as the track, and the weight bench and under the stairs as the backdrop for our scenes. Life got in the way of that career path, but it occurred to me recently that writing books is just like designing theme park rides. You put a reader in a cart on a track (the narrator using carefully chosen words) and turn their carts to reveal different scenes (in my case, using words and photos together) as you navigate through the story. Photos and words together allow me to bring outside worlds to life on paper. They help me put readers on a ride! OMG, THAT'S SO FUN!
(Since I'm in total geek out mode now, I'll let you in on a big secret…creating my own theme parks and rides in the Roller Coaster Tycoon video game series is one of my favorite things to do when I need a break from adulting. For reals. And it may seem outlandish, but Disney World is a very happy place for me. I'm going again in February!)
Through my journey with photography and writing, I've come to love water-related topics, so much so that just this week, I recently finished a proposal to write a book about outdoor experiences in the Colorado River Basin. Also, I just applied to be a river guide next summer. I want to help connect people with the outdoors, with rivers and lakes and coasts and bubbles specifically, in as many ways as I can.
I've learned since college that your life doesn't have to be a straight single-track you must stay on forever. You don't have to pick one thing that defines you. You definitely don't have to stress about not being able to find that one thing, which is something I did for way too long. That's certainly one way to get through it all, and if you love it, keep doing it. That path, though, didn't—and doesn't—fit me or my personality. I'm curious about so many things in this world, and I especially love a new challenge. I see no reason, especially given my fortunate position as a freelancer, to limit myself to just categorizing myself as a "photographer" or "writer" in the same way I believe we shouldn't limit our creative expressions to just photography.
Labels are like photographic frames: they narrow your view into a small sliver of the world you want other people to see. That's too confining for me. It doesn't represent the full picture. We can be many things in our lifetime, even at the same time. If you need a word for all the things you are, then simply sum it up as "YOU."
I hear often, "Oh Bubbles, you have the best life ever. I'm so envious. I wish I could do that." I'll let you in on another big secret: you can. I've done nothing magical or special. The only thing between you being envious of the best life ever and you having the best life ever is attitude and action. It may feel otherwise given the heavy burden of expectations and responsibilities, but if you're still alive and breathing, you can do and be anything you wish. ANYTHING.
Excuses like "I'm too old," or "I don't have time for that" are four things:
Bull shit.
Lazy.
An imbalance of priorities that need to be scrutinized for truth. For example, when someone says they don't have time, it usually means they don't want to make the time because other things in life are more important. That's totally legit. Just don't waste time justifying bull shit and laziness dressed up as priorities.
An indicator of fear. Being afraid of things that can kill you are worthy fears. Most of what we worry about, though, are nothing more than self-made barricades evolved from personal and societal expectations. Plow through those. Otherwise irrational fear turns into regret if you wait long enough.
You know what you really don't have time for? Waiting. Waiting to push off whatever it is you really want to do until "someday," "tomorrow," or "retirement." My grandfather—my mother's father—had dreamed of traveling the country in an RV with my grandmother when he retired. Awesome idea! Except, he never retired. He died at 57 of a heart attack. My grandmother died at 67 from cancer, before she retired and could figure out how to wander on her own.
Your time on this Earth is not guaranteed. The time to do what you love is now. The time to live your dreams is now. Happiness isn't something you pursue. It's something you do. It's not something you wait for. It's something you live. Figure out how to build a life you don't need to escape from now or tomorrow or when you retire. Yeah, it'll be really hard. Yeah, it'll be absolute train wreck sometimes. Yeah, it won't fit with labels and standards. But it'll be meaningful–and delicious. It'll be your terms, your dreams. It'll be your life. Your best life ever.
So go! Be a photographer. Be a writer. Or be whatever you damn well please. Make it up. Make it big and wild and crazy and awesome while you're at it. We have a blank slate to create and reinvent ourselves with each passing day. Don't waste your precious chance. Go make 2020 your best and brightest year yet.
Be well, be wild!
~Bubbles